Central Asia's first Luban workshop opens in Tajikistan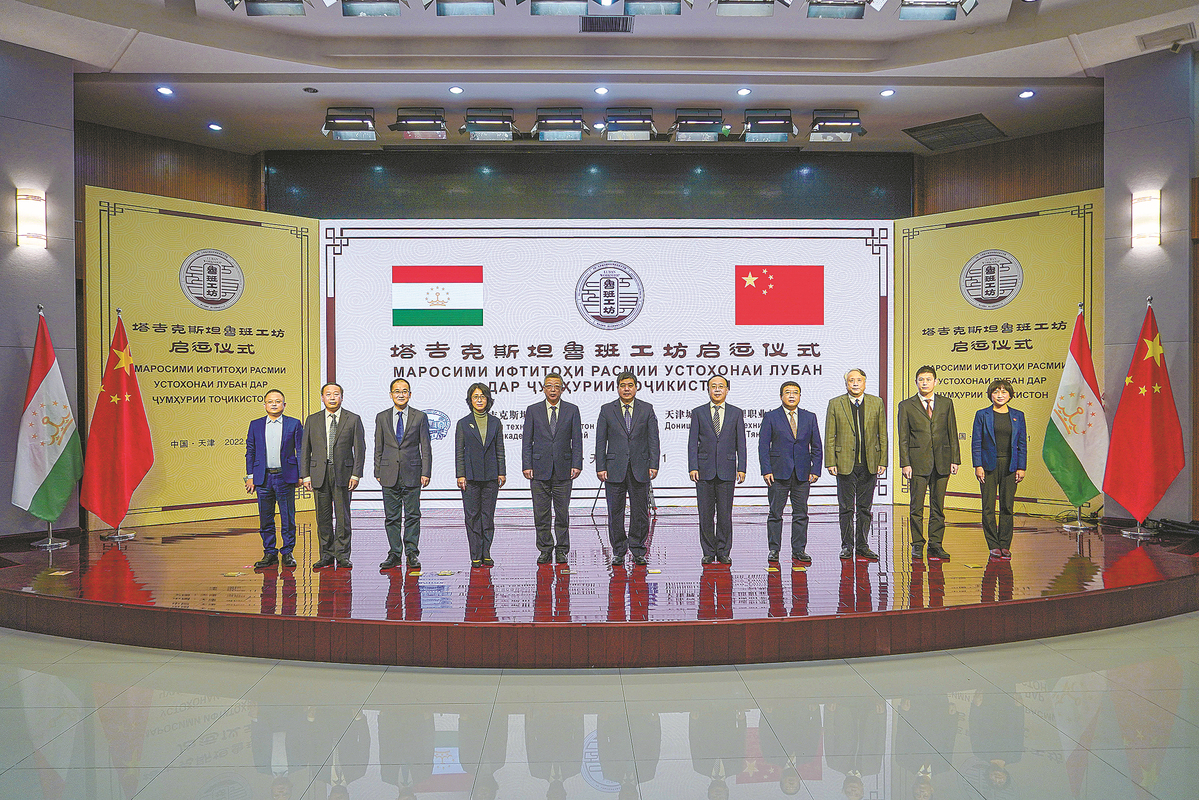 The institute will help strengthen relationships and train the next generation of technicians
The first Luban workshop in Central Asia was recently opened in Dushanbe, Tajikistan, and aims to promote practical cooperation between China and Central Asian countries. The opening ceremony for the workshop, co-organized by Tianjin Urban Construction Management Vocation Technology College and Tajik Technical University, was held simultaneously online in Dushanbe and Tianjin.
The facility is 1,138 square meters and will offer two focus areas – urban heat application and engineered measurement technologies.
It has two new practice centers – one green and one smart – for students to carry out projects. Its technology and practice facilities and online classrooms provide bilingual teaching materials and other educational resources. Its teachers, trained by Tianjin College, will provide technological and professional training.
"The workshop bridges the gap between the two countries in terms of vocational and technological education and cooperation, and should become a model for practical cooperation between China and other Central Asian countries," said Ji Shumin, China's ambassador to Tajikistan.
Saidzoda Zohir Ozod, Tajikistan's Ambassador to China, praised the relations between the two countries, adding that the workshop opens new doors for knowledge-thirsty students. The workshop should help speed up development and strengthen the strategic partnership between the two countries, he said.
This year marks the 30th anniversary of the establishment of diplomatic relations between China and Tajikistan.
"The Luban workshop will help enrich culture, deepen communication between the two peoples, and advance the quality development of the Belt and Road Initiative," said Wang Xu, Party chief of the Tianjin Municipal Education Commission.
Abdulknoliqzoda Lutfiya Abdulknoliq, Tajikistan's Deputy Minister of Education and Science, praised the workshop for its state-of-the-art teaching facilities and for its support in training technical personnel.
Since the end of March, three teams from Tianjin have been busy with preparatory work at the university.
In August, senior teachers began training their Tajik counterparts in China's vocational education concept, teaching model, practical knowledge and practical engineering skills related to the majors offered.
Li Qingbin, party chairman of the Vocational School of Technology, noted that the workshop benefited from support from government agencies, businesses and universities in both countries and expressed hope that it would make greater contributions to the development of the BRI.
Tajik Technical University Rector Davlatzoda Qudrat Qambar said the workshop, which is becoming a leading name in vocational and technical education, has received widespread recognition in political, business and educational circles, and expressed his belief that the solid partnership with Tianjin Vocational School will be fruitful.
Named after Lu Ban (507-444 BC), considered the father of carpentry in China, the workshops aim to educate technical professionals worldwide.
To date, 26 Luban workshops have been established in 21 countries across Asia, Europe and Africa since the first was established by the Tianjin Education Authorities in Thailand in 2016.
Twenty-one of the 26 workshops were set up by Tianjin in 20 countries, while the remaining five were established by vocational and technology schools from Zhejiang, Shaanxi and Sichuan provinces.