Do dual test kits deserve insurance benefits in name only?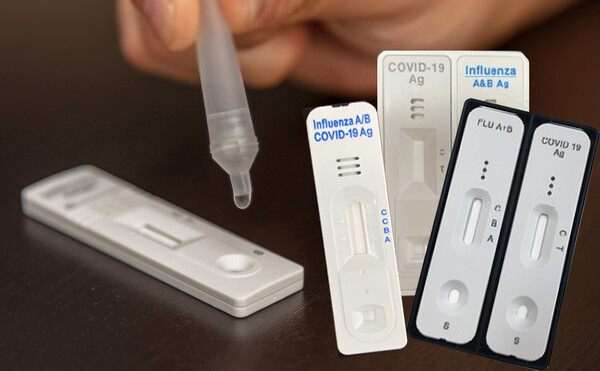 The Department of Food and Drug Safety has come under fire for its "poor screening" as it debated providing health insurance benefits for concurrent testing kits to prepare for the "twindemic" of Covid-19 and influenza.
Experts pointed out that the ministry has even approved test kits that can hardly use the term "simultaneous diagnosis".
As of November 22, 2022, the ministry approved 21 diagnostic reagents for Covid-19 and influenza. Eleven were diagnostic reagents for PCR testing and ten were expert antigen test kits.
The controversy was sparked by expert antigen test kits, with eight of the 10 products being just the bundles of Covid-19 test kits and influenza test kits, which do not fit the term 'simultaneous diagnosis'. Industry representatives call them "duo type".
Of the 10 duo-type antigen test kits, four collected samples twice and placed them separately on devices for Covid-19 and flu. "It's like connecting a red ballpoint pen to a black ballpoint pen with a rubber band and selling it as a multicolored pen," said a professor of diagnostics and testing.
With other duo-type antigen test kits, samples were collected once. However, they also have to wait after dropping the collected sample on the Covid-19 device and the influenza device separately. "They showed a little more sincerity by not connecting the two pens with glue instead of a rubber band," the professor said.
Just two were "combo test kits" that showed infection from Covid-19 or influenza with lines on the display after a sample was taken and dropped on a device.
However, these duo-type products advertise as "one-step simultaneous test kits" like combo-type products.
"How can manufacturers call their products simultaneous test kits by bundling a Covid-19 test kit and a flu test kit together? Some of them even have to collect samples twice, which has no practical value," said another professor. "Few doctors would use such products."
He pointed out that examinees would also rarely accept having their noses poked twice for a simultaneous kit, stressing that it was problematic that the regulator had approved them as a simultaneous kit.
"Isn't it difficult to call the method of collecting samples separately and dropping them on two separate machines simultaneous diagnosis?" said an official with the Korea Society of Laboratory Medicine. "By simultaneous diagnostic kits, we usually mean products that only collect samples once and drop them onto a device to confirm infection with Covid-19 or influenza. It's just common sense."
Similar criticism was expressed when discussing the granting of health insurance benefits for the duo antigen test kits.
Last Wednesday, the Health Insurance Review and Assessment Service (HIRA) discussed the topic with experts. Most attendees reportedly appeared embarrassed by the product listings of antigen test kits and product explanations.
Some professors at the meeting said they had to disagree with the ministry approving the Duo products, which were simple combinations of two devices.
"Covid-19 test kits and influenza test kits used for the Duo products were products whose safety and efficacy were confirmed by clinical trials at the time individual products were approved," the ministry said. "We re-authorized these products because manufacturers packaged individually licensed Covid-129 test kits and flu test kits in a single box."