Hong Kong delays security trial of Jimmy Lai as UK lawyer's visa extension is denied
The national security trial of pro-democracy Hong Kong media magnate Jimmy Lai was postponed for a second time on Tuesday after his British lawyer was denied a visa extension, according to local reports.
The trial has been postponed to September 25, 2023 and is expected to take 40 days pending a decision by the Chinese Communist Party (CCP) legislature on whether foreign lawyers can work on national security cases.
Lai's lead attorney, Robert Pang, asked the court to postpone the trial because Lai's British defense attorney, Tim Owen, had left Hong Kong to take on another case scheduled for May, the Hong Kong Free Press reported .
Pang said Owen left after immigration officials rejected his application for a visa extension.
Pang also argued that the Standing Committee of the National People's Congress (NPCSC), Beijing's legislative body, may not issue an interpretation of the security law by the end of the year.
The court decided to postpone the trial until September next year because it could not determine when the NPCSC would interpret the security law.
"We don't know when the interpretation will be accepted… [and] when the decision will be made," said High Court Judge Esther Toh.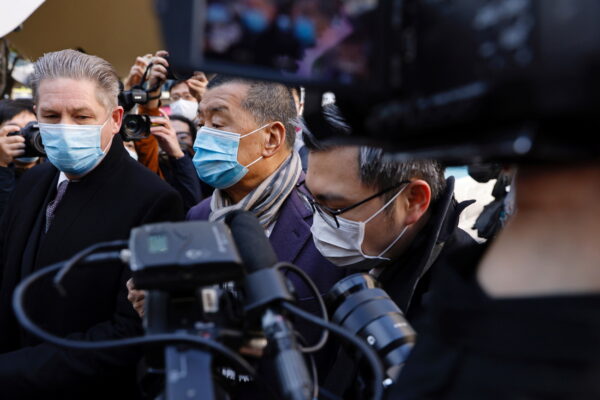 Lai's security trial was previously postponed to December 13 after Hong Kong chief executive John Lee asked the NPCSC to decide whether foreign lawyers could work on national security cases after the government failed to stop Owen from bringing Lai to justice represent.
Lee said it was necessary to seek Beijing's intervention because "there is no effective means of ensuring that a foreign lawyer does not have a conflict of interest based on his or her nationality."
Lai, 75, is the founder of the now-defunct liberal newspaper Apple Daily and one of the most prominent Hong Kong critics of the CCP. He has been behind bars since December 2020 for his role in unauthorized gatherings.
He was also charged under the draconian national security law for alleged collaboration with what the CCP considers "foreign forces." Lai has pleaded not guilty to the charges.
Lai was sentenced on December 10 to five years and nine months in prison for violating a lease on his newspaper's headquarters. The court also disqualified him from eight years as a company director and fined him HK$2 million (about $257,000).
International outcry
Maya Wang, deputy Asia director at Human Rights Watch, called on Hong Kong authorities to drop "their false charges" against Lai and release him and his six co-defendants.
Wang said the CCP's attack on Hong Kong's rule of law and free media poses "a global threat."
"The maneuvers by the Chinese and Hong Kong governments to bar foreign lawyers from national security cases will further undermine the rule of law in the city, which has plummeted since the national security law was imposed," Wang said in a statement Tuesday.
Beh Lih Yi, program coordinator of the Asia Journalist Protection Committee, said the case against Lai should be dropped because the 75-year-old defendant has already served two years in prison.
"The harsh sentence handed down to Jimmy Lai on fabricated fraud charges shows how Beijing and Hong Kong will stop at nothing to eliminate dissenting voices," Beh said Dec. 10. "The authorities must end this persecution once and for all."
Caoilfhionn Gallagher, KC, the head of Lai's international legal team, said Lai was facing "lawfare," with multiple prosecutions aimed at "silencing and discrediting" him and sending a clear message against the criticism Send to Beijing or Hong Kong authorities.
She called on British Prime Minister Rishi Sunak and his Foreign Secretary to deal with the case urgently and stand up for British citizen Lai.
"It's frankly amazing that we've heard more from the US government about this false conviction for fraud than from Mr. Lai's own government," Gallagher said a statement posted on Twitter.
Lai's son Sebastien Lai also called on the British government to take action to secure his father's freedom.
"My father is a British citizen who has done nothing wrong," he was quoted as said by Lai's international legal team. "The UK must do everything to stop this, and do it now."
Reuters contributed to this report.