The babysitter horror film promises a lot, but not enough clout
Nanny ★★½
(TBC) 98 minutes
Make a low-budget drama about an undocumented immigrant who works as a nanny in New York City, and your audience might be relatively small. Call it a horror film, however, and you can reach two audiences instead of just one – although you run the risk that neither of them will be satisfied.
This is the risk that the American author and director Nikyatu Jusu takes with her first feature film Nanny, which won the Grand Jury Prize at this year's Sundance Film Festival. The statuesque Anna Diop plays Aisha, a former teacher from Senegal who finds work by looking after the young daughter of Amy (Michelle Monaghan) and Adam (Morgan Spector), a wealthy white couple in the Upper East Side.
Aisha is a very competent nanny for Rose (Rose Decker) and her dealings with her employers are absolutely professional. Nevertheless, tensions in this inevitably unequal relationship are indicated from the outset – for example by the fact that Aisha has to be paid in cash and the tense but slightly crooked Amy doesn't always think about it.
There are other things in Aisha's life: she herself has a young son and is saving for the day when he can come to her in the USA. She also gets a boyfriend midway through the film, Malik (Sinqua Walls), although it seems they don't see each other much given how often Aisha has to work overtime.
This isn't a super stylized film, but it's visually distinctive: the camera is often just below eye level, looking down at the characters and injecting an unusual level of seriousness into their interactions. A more familiar, even cliche, visual device is the contrast between the cool, sterile look of Amy and Adam's apartment, with bluish abstract paintings on gray walls, and the lighter colors one associates with Aisha when she's in town.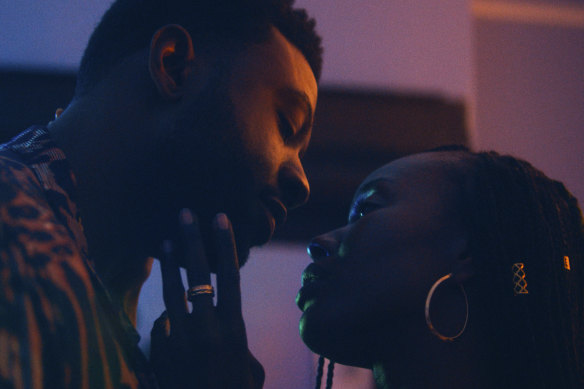 The basic elements of Nanny are promising, but they are not very convincingly intertwined. Most of the tension arises from the portrayal of a very mundane nightmare: trying to survive financially while dealing with the whims of unreliable employers.
But the story also has a seemingly supernatural dimension, coupled with the West African folk tales read by Aisha Rose, including the tales of the trickster spider Anansi. The suggestion is planted that Aisha might share some of Anansi's amorality, but Jusu doesn't execute it in a way that would satisfy horror fans.