Wyoming wants to take action against violence against health care workers
CHEYENNE – Dealing with workplace violence is often an integral part of healthcare work.
Konea Dory, a nurse who works in the emergency room at Ivinson Memorial Hospital in Laramie, knows what it's like. She said she was kicked in the stomach by a patient who frequents the emergency room. She once had a patient who told her that if she stepped into their room they would slap her in the face. Another threatened to kill her and her children.
"The problem is that there aren't any specific rules against those who attack us in healthcare," Dory said. "We are in a very precarious situation. It's sad that you go to work and worry every day when you walk into a patient's room."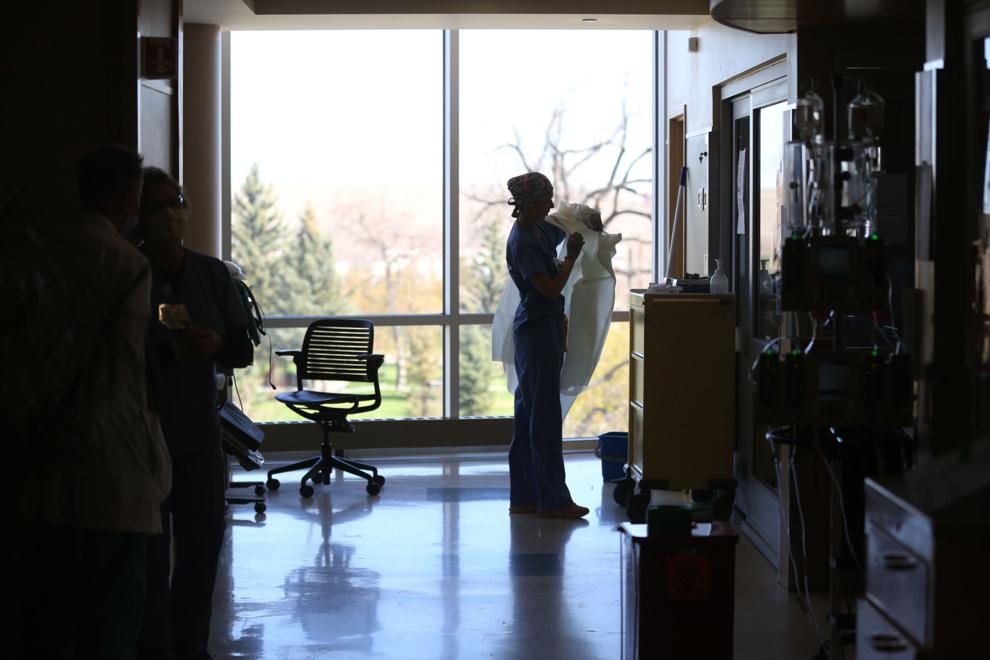 And while workplace violence has long been something these professionals have had to deal with, it's gotten worse in recent years, said Tracy Garcia, vice president and chief nursing officer at Cheyenne Regional Medical Center.
Funding for psychiatric treatment for adolescents faces a setback, but clears the second hurdle
House Bill 149, passed unanimously on first reading in committee on Wednesday, aims to strengthen protections for healthcare workers who experience violence at work.
The bill, sponsored by Rep. Dan Zwonitzer, R-Cheyenne, would punish assault, physical harm, or threat of violence for healthcare crimes with a misdemeanor and up to six months in prison, a fine of up to $750, or both. (The bill originally increased the misdemeanor fine to $1,000, but Rep. Sarah Penn, R-Lander, amended the bill to lower the fine back to $750. Penn, a home nurse, didn't believe that the $1,000 fine would go a long way in stopping violence against healthcare workers.)
Subsequent offenses can result in a felony and up to three years in prison, a fine of up to $1,000, or both.
The bill would encourage health care facilities to post signs stating that abuse or use of force against health care workers could result in a conviction under the proposed law or other laws. It would also direct these agencies to post information about workplace violence on their websites and to develop a workplace violence prevention plan.
Wyoming has the nation's highest suicide rate. Legislators are discussing how they can help.
Healthcare facilities would be encouraged to report incidents of workplace violence to law enforcement and the Wyoming Department of Health or the facility's appropriate licensing authority. (These reporting requirements would only apply to healthcare facilities with 25 or more employees.) Employees who report workplace violence or seek help from emergency services or law enforcement would be protected under the bill from potential retaliation from their facilities.
Wyoming is the only state in the US that does not have a special protections law on the books for healthcare workers.
A similar bill has come before the legislature. Increasing protections for healthcare workers was also an issue the Wyoming Joint Judiciary Committee pondered ahead of the current session. But the committee did not support the bill, defeating it by a vote of 5 to 4 after it stalled on part of the bill that would have made a first offense a felony. So instead, Zwonitzer decided to sponsor the bill himself, tweaking it so that the punishment for a first offense was reduced from a felony to a misdemeanor, with a second or subsequent charge being a felony.
Healthcare workers, like everyone else, are protected by Wyoming law when someone acts violently against them.
But when a healthcare worker is attacked, the damage extends beyond that worker to the patients they care for. Because of this, Wyoming Hospital Association Vice President Josh Hannes argued that "the law should recognize that this is a different type of offense."
Some people pointed out during Wednesday's House of Representatives Committee on Labor, Health and Human Services Committee meeting that violence against health care professionals is of particular concern since Wyoming is already suffering from a shortage of health workers.
"What we've seen and heard is that people don't go to health care because of these types of situations," said Garcia, the vice president of Cheyenne Regional Medical Center. (Rep. Jeanette Ward, R-Casper, questioned whether this increase in abuse and difficulties in recruiting health workers weren't the result of people not wanting to comply with vaccination regulations.)
The state is trying to increase funding for schools' mental health
Although they ultimately backed the bill, some lawmakers said they were concerned the proposed legislation would penalize people who may act violently because they are ill – the reason they might find themselves in a healthcare facility in the first place.
An amendment likely to appear in future readings of the bill would address this issue to some extent. The change, requested by Wyoming's local branch of the Alzheimer's Association, would exempt patients with Alzheimer's or a related dementia, or with a proven history of memory loss that interferes with their daily lives, from the bill.
Although the proposed legislation would introduce some guard rails to address workplace violence against health care workers, it is only one step in dealing with the problem, a point Penn reminded lawmakers and the public.
"I just want to make sure people understand that this isn't going to stop the attack," Penn said. "But it's an effort to do what we can still do to support nurses and try to facilitate that process."
The bill still has to go through several votes in the House of Representatives and Senate before it can go into effect.
Follow Maya Shimizu Harris on Twitter @M_ShimizuHarris